Last chance to see rare Venus transit — until 2117
Your last chance to watch Venus cross the face of the sun is less than a month away.
This rare event, known as a transit of Venus, will take place on June 5 for Western Hemisphere observers, though it will be June 6 local time for skywatchers in the Eastern Hemisphere. Over a seven-hour span, Earth's so-called sister planet will trek across the solar disk from our perspective, appearing in silhouette as a slow-moving tiny black dot, weather permitting.
Venus transits occur in pairs that are eight years apart, but these dual events take place less than once per century. The last one happened in 2004, and the next won't come until 2117.
If you miss this time, you won't have chance to watch it in your life!
You can experience the transit of Venus safely, but it is vital that you protect your eyes at all times with the proper solar filters. No matter what recommended technique you use, do not stare continuously at the Sun. Take breaks and give your eyes a rest! Do not use sunglasses: they don't offer your eyes sufficient protection.
1) Solar Viewing Glasses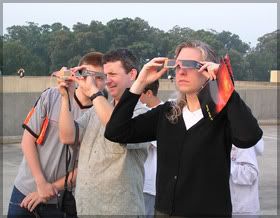 People using solar viewing glasses to safely view the Sun
2) Viewing with Protection
3) Telescopes with Solar Filters
4) Pinhole projectors
5) Related projection methods
在2012年6月6日,將出現難得一見的天文奇觀──金星凌日6月6日出現的金星凌日,只有在亞洲、澳洲、美洲、部份歐洲一帶才可看到。
金星凌日的發生週期是每隔8年,接下來是105年;再接下來又是8年、105年,以此類推。
本世紀初的2004年經發生過一次金星凌日,隔了8年,也就是今年的2012年6月6日,再有機會觀察此奇觀,之後就要隔105年,也就是2117年。才有機會再觀賞此景觀。所以如果这次错过这个机会的话,这一生都没有机会看到了。
觀察太陽最安全就是利用太陽濾光镜,它安全又可靠,可保護雙眼不受傷害,其他的器材如黑玻璃、平常的黑眼鏡、舊菲林、燒焊面具等都不是正確的觀看儀器,千萬不可拿來觀看,不然會弄瞎雙眼。
觀察金星凌日的時間唯先戴上濾光眼鏡,面向東方,觀看初升起來的太陽,仔細尋找太陽表面上的小圓點,如發現那小圓點,它就是第二顆行星──金星了。
休息一下再看,你會發現它的位置已改變,證明它在緩緩移動著。因太陽的面積很大,金星需很長的時間才能跨越太陽的表面,我們可從上午7時零5分開始觀看到中午12時45分結束。
Solar Viewing Glasses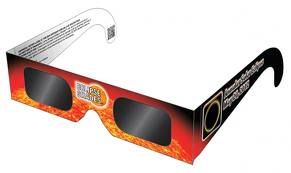 Solar viewing glasses, or Eclipse Shades, provide the ultimate in protection from harmful solar radiation. Lenses are made of our exclusive scratch resistant optical density 5, "Black Polymer" material. Eclipse Shades filter out 100% of harmful ultra-violet, 100% of harmful infrared, and 99.999% of intense visible light. This eye-wear is a certified material imported from the United States and proven safe to use for solar eclipse or transits.These premium filters create a sharper ORANGE colored image of the sun.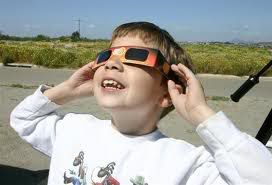 Qty                Price/pair
1~10                   RM 8
Above 10           RM 6
For more details, pls do not hesitate to call Pooi Hang at  012-2208921.